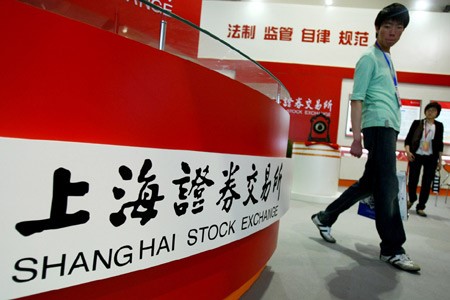 Shanghai's burgeoning initial public offering (IPO) market is shaking Hong Kong's status as the world's fundraising king and will challenge the latter's role as China's international financial center as the country moves toward a convertible currency, market observers said.
"It is certain that Shanghai will surpass Hong Kong in 2010 as the world's largest IPO center," said Terence Ho, strategic growth markets leader of accounting firm Ernst & Young.
Chinese companies are expected to raise $55.7 billion on the Shanghai Stock Exchange in 2010 while in Hong Kong the figure is expected to be $47.7 billion. Last year, Hong Kong raised approximately $30 billion in new listings with Shanghai's $27.3 billion closely behind, according to Bloomberg data.
Analysts said it would be a matter of time for Shanghai to eat into Hong Kong's share in the IPO market as China is moving toward a convertible currency.
"The yuan's internationalization could be a threat to Hong Kong as foreign capital could then flow freely into the mainland's A-share market," Ho said. "Global fund managers will also increase the percentage of their investment on the mainland."
China is on the way to reforming and improving its capital market by introducing new financial tools including stock index futures, margin trading and short selling. Shanghai is also preparing itself for an international board that will allow foreign companies to raise capital in the mainland.
Foreign companies HSBC and global exchange group NYSE Euronext are keen to become the first batch of overseas companies to list on the A-share market.
However, Ho pointed out that Hong Kong in the short term will maintain its advantage of high international exposure and market liquidity.
"In the short term, Shanghai is unlikely catch up with Hong Kong in terms of international exposure and liquidity," he said. "Currently, the two places have different roles. Hong Kong caters to millions of international investors while Shanghai mainly targets domestic investors."
Ho noted that although the yuan's internationalization may jeopardize Hong Kong's role as China's gateway to the global financial market, it may create new opportunities for Hong Kong as more capital will be pumped into Hong Kong from mainland investors.
To maintain its status as world-leading IPO market, Hong Kong needs to work on attracting more mainland companies and keep the existing ones, analysts said.